You better believe it – we've been running Facebook Ad campaigns for over three years, and we consistently return better ad results than 98% of other advertisers. Maybe you've been asking how to improve a Facebook company page for a while, but your ads aren't running effectively and you're struggling to see substantial ROI. There are many 
social media mistakes
 you could be making that influence this, but for most businesses, it's because your ads are missing a few crucial variables.
You CAN get ROI in terms of traffic, leads, and customers through Facebook advertising. It all depends on your ability to deliver VALUE in the ads, which drives traffic to your website. If you follow these few steps, you'll be well on your way to creating a campaign that gets clicks for less than a nickel – just like us.
How do we do this?
1. Choose the #1 Facebook Ad Objective to Generate Traffic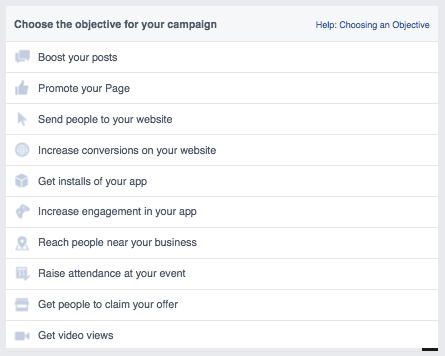 When creating a Facebook ad, you have the option of choosing from 10 different objectives.
With a traffic goal in mind, the most effective objective is "Boost Your Posts" to help you increasetraffic to the site.
Choosing "Boost Your Posts" allows you to bypass any text limit restrictions on creating ads through the Ad Manager, which you will find in all of the other ad objective options.
This is because you're promoting a Facebook update that you've already created in your timeline, not creating a new one.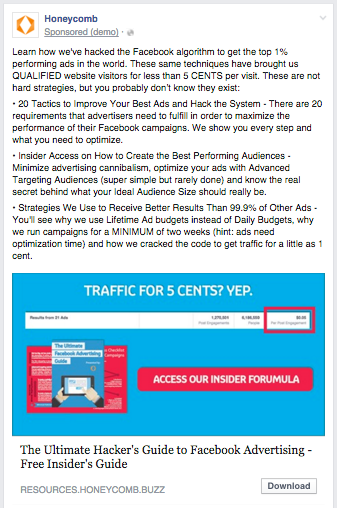 Here are some of the practices we follow when creating these Boosted Posts advertisements on Facebook:
We suggest you create a Facebook update with 2-3 paragraphs that outline all of the value someone can get in clicking the link to your website.
Make sure you are linking back to a valuable piece of content on your website. Follow the main tenants of value based blogging to generate content that your customers want to read.
Optimize the photo for clickability. It is a good idea to use a professional stock photo or custom photo from your library. Facebook lets you use Shutterstock photos for FREE when creating ads that are NOT Boosted Posts, so make sure you are purchasing your own photo for this.
Optimize the Link Description with attractive words like Free, Help, New, Updated, Download, Access, Exclusive, etc.
Choose the Correct Budgeting and Ad Lifecycle
Budget allocation is a huge part of creating an ad that is delivered effectively to your audience. Allocating a larger budget to a smaller number of ad sets will optimize more effectively rather than splitting your budget into many ad sets. Don't spread your ad budget too thin – if you only have a few hundred dollars a month, only run 2-3 ads and keep them underneath the same campaign with the same advertising objective.
The second important aspect in budgeting your advertisements is the bidding process. Bidding for clicks is required in order to deliver your ads to people who are most likely to clickthrough to the website. Make sure you also choose "automated" cost per click in Facebook. The manual is not optimized and can severely impact your ad results unless you are monitoring it on a daily basis. No one wants to do that!
It's tempting to change up your ad frequently. Do not make any changes to an active campaign. Every time you make a change, the Facebook algorithm will need to relearn how to deliver effectively to your audience. Wait until the last day of the campaign to increase the budget and duration of an active Campaign and make your changes then. This also gives you more data to make your next move on the campaign so that you're utilizing the Facebook ad reporting to its highest potential. Finally, we recommend the minimum campaign duration should be 2 weeks as it may take up 2-3 days to reach the highest optimization point. We suggest doing a monthly ad calendar.